t-shirt men Nightwish - Imaginaerum - NUCLEAR BLAST
Men's Original T-shirt with a black front and back print. Material: 100% cotton. Brand: NUCLEAR BLAST. Dimensions in cm approx.: .. more
t-shirt men Nightwish - Imaginaerum - NUCLEAR BLAST
Men's Original T-shirt with a black front and back print. Material: 100% cotton.
Brand: NUCLEAR BLAST.
Dimensions in cm approx.:
Upload photo
Fill out the form below and get your bonus for pictures :)

Enter your order number, which you've received in the confirmation email
1 order = 1x discount of €2
after you verify your email and order number, choose the product, which the picture belongs to in then generated box
photo must show said product
photo must show user (aka you)
this discount could be used for orders of value over 20€
Don't miss your chance of winning €40 discount
for your next purchase. We give away one every month!
Upload photo
User photos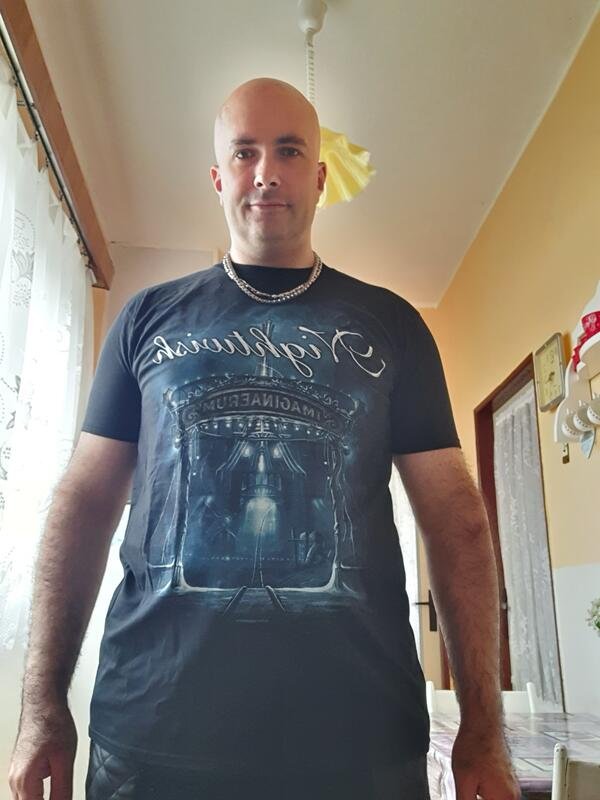 Parameters
Product reviews
Discuss
Ozzy 10. 10. 2013 23:06:40
When the size L??
- Maybe in November, if available from the manufacturer. I recommend you set the watch size L.
Fero 2. 9. 2013 19:21:45
Hello! when the size L?
- Maybe in the fall, set the size of the baby, please.
Jana (Bratislava) 24. 11. 2012 12:14:48
Please, not the size M? thank you
- Size M is not and will not this year, maybe next year.
Božkov (Rychnov u Jablonce nad Nisou) 30. 9. 2012 11:12:13
Hello, I wanted to ask, when the stock size L? I have a really great interest .. thank you very much in advance :)
- Possibly enter during the autumn, if we shirt manufacturer offered. Set the watchdog.
Richus (Bratislava) 16. 9. 2012 15:20:26
Please know you will be L-com?? please too!
- We'll try to add. Set the watchdog.
Erik (Nitra) 30. 4. 2012 11:15:09
When please add size M?
- currently sold out at the supplier - about 3 weeks
Daniel (Šaľa) 21. 3. 2012 22:36:15
when will more sizes? L?
- Fastest in Maya.
Matej (Beluša) 21. 3. 2012 19:53:11
When fill size XL?
- First in Maya.
Size chart
| | | |
| --- | --- | --- |
| | length | width |
| S | 70 | 49 |
| M | 71 | 51 |
| L | 72 | 53 |
| XL | 75 | 58 |
| XXL | 76 | 62 |