men's shirt Brandit - Men Shirt Slim - Black
stylish "army" shirt by BRANDIT made from very comfortable cotton. Black colour. Features long sleeves that can be rolled up - see photo button fastening two chest pockets with buttoned flap .. more
men's shirt Brandit - Men Shirt Slim - Black
stylish "army" shirt by BRANDIT made from very comfortable cotton.
Black colour.
Features
long sleeves that can be rolled up - see photo
button fastening
two chest pockets with buttoned flap
collar around the neck
the shirt is intentionally threadbare in several places - it is supposed to look used - but it is a new product
the sleeve ends are decorated with buttons
Composition: 100% cotton.
Approximate dimensions in centimetres approx.: (circumference is 2x width)
Upload photo
Fill out the form below and get your bonus for pictures :)

Enter your order number, which you've received in the confirmation email
1 order = 1x discount of €2
after you verify your email and order number, choose the product, which the picture belongs to in then generated box
photo must show said product
photo must show user (aka you)
this discount could be used for orders of value over 20€
Don't miss your chance of winning €40 discount
for your next purchase. We give away one every month!
Upload photo
User photos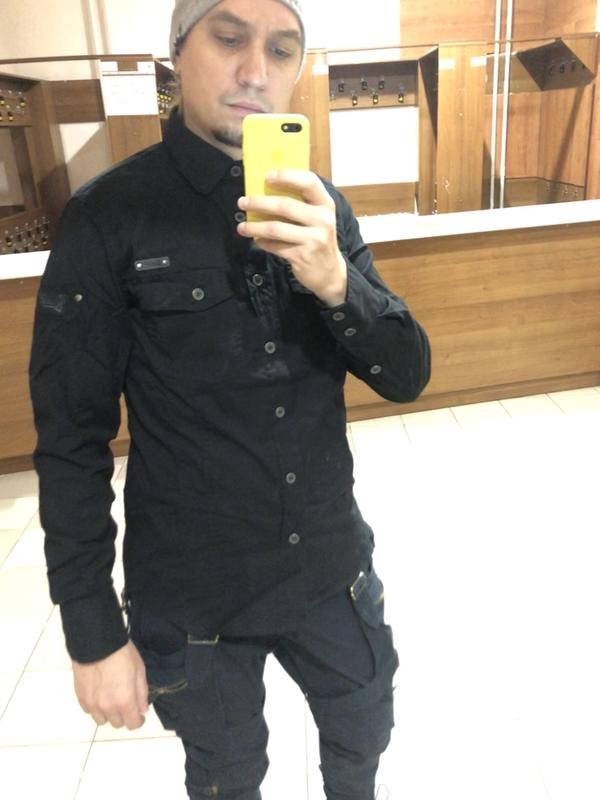 Parameters
Product reviews
Discuss
Rudolf 28. 2. 2015 12:47:43
Hello. I would like to ask if the cage is size S in stock and what the extent of this size. Thank you in advance.
- Hello, yes we stock size S and thank you for pointing out the size chart, we have added dimensions as well as size S. :)
alex 7. 11. 2014 07:48:04
I only ordered it but according to my way of dimensions and to find attached the inscription want tioe longer sleeves
- Well, write, somehow deal with it. ;-)
alex (bratislava) 3. 11. 2014 19:22:42
So I recommend my xl or xxl?
- Given the sleeves thus XXL, but I do not know if you do not have a shirt too wide and long. If I were you, I order a suitable shirt by latitude and longitude. I believe that the sleeves will be fine. And if not, you can replace the shirt or return within 7 days from the receipt of shipment.
alex (Bratislava) 3. 11. 2014 12:09:38
Hi I want to get drunk out of my armpit rate from the wrist 57 cm and you are you do not have a degree so I do not know whether L, XL will be good to me I'm tall 192. Thank you for your advice
- In this case, at least XL.
Stan (Praha) 17. 4. 2014 13:00:28
I would like to ask whether it will be next month in size L
- It's possible, but not certain, so I recommend above all set to watch the demanded size.
ja 13. 3. 2014 15:43:12
and the surface of the material? It's almost too matte like say (shirt mens with long sleeve Jack Daniels - TS623013JDS) or also the glittering symbol trash? e.g. as (shirt mens BLACK HEART - Hot Rod work shirt) I hope that We understand? : D
- We understand you but this shirt is neither / nor. :-D It is not as dull as Jack Daniels or glossy (not so smooth). It's just something in between. It's good stuff and shirt looks good, although it is not pure cotton.
ja 10. 3. 2014 20:48:25
I want to ask the basket is rather TENS or thicker, or something in between? not completely thin as the paper?
- It's something in between. Certainly not as thin as paper.
Size chart
| | | | |
| --- | --- | --- | --- |
| | width (measured across the armpit) | length | sleeves length |
|   S | 50 | 71 | 53 |
| M | 53 | 72 | 53 |
| L | 55 | 74 | 53 |
| XL | 58 | 75 | 54 |
| XXL | 61 | 76 | 55 |