children's jacket (crooked) RUNNING BEAR
CHILDREN'S BUNCH, awesome leather jacket CHILD SIZE brand RUNNING BEAR. This jacket, known as the "curvy jacket", is made of high quality cowhide leather, so you can wear it almost all year round (long life and durability). The lining .. more
children's jacket (crooked) RUNNING BEAR
CHILDREN'S BUNCH,
awesome leather jacket CHILD SIZE brand RUNNING BEAR.
This jacket, known as the "curvy jacket", is made of high quality cowhide leather, so you can wear it almost all year round (long life and durability). The lining is made of pleasant polyester.
Zippers, buttons and other accessories are silver in colour, they are made of metal.
The jacket has 3 external zipped pockets and 1 ingenious small pocket for small change. Inside you will find 1 pocket.
The jacket also has a leather belt with a metal buckle. The sleeves are cleverly finished with metal zippers.
Composition : bovine leather, silver metal accessories.
Approximate dimensions in cm (circumference is 2x width)
Upload photo
Fill out the form below and get your bonus for pictures :)

Enter your order number, which you've received in the confirmation email
1 order = 1x discount of €2
after you verify your email and order number, choose the product, which the picture belongs to in then generated box
photo must show said product
photo must show user (aka you)
this discount could be used for orders of value over 20€
Don't miss your chance of winning €40 discount
for your next purchase. We give away one every month!
Upload photo
User photos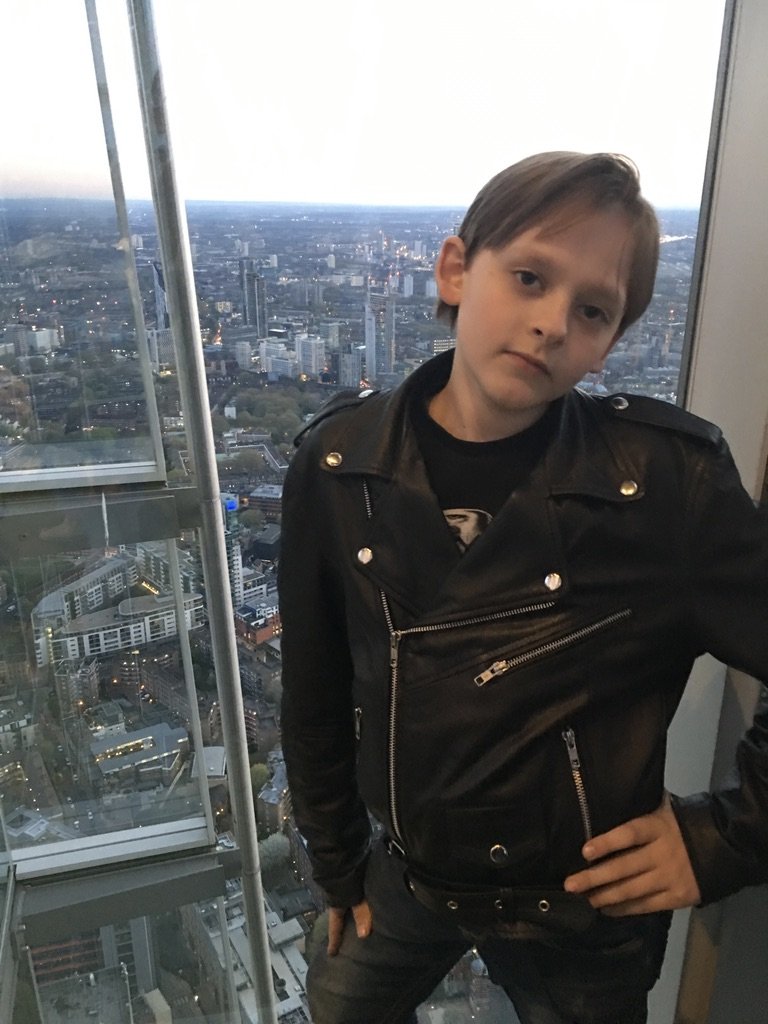 Parameters
Product reviews
Discuss
Adrian (Braila) 15. 7. 2019 23:52:46
180. 115kg. Does size xxxl. Suits me? Tx
- Hello! At the description you have a table of cm. We can not tell by height and weight what size suits you. You have to measure yourself with a meter of tailoring, and then, after comparing your dimensions with those on the site, make a decision. If we can help you, please write to store@metal-shop.ro
Lukáš 18. 3. 2019 13:23:58
Hello, could I ask in width from shoulder seam to size M and L? This rate is missing in the table. Thank you
- Hello, thank you for your question. In both cases it is 38 cm. L-ka maybe 38.5 cm if we wanted to. :-)
Erik (Banská Bystrica) 1. 3. 2019 15:41:48
Hello, I want to spit if you buy a good bunch and I will not see the size or you will return the money or you can claim the size
- Hello, thank you for your inquiry. If the goods do not happen to you, you have 14 days from taking delivery of the item to exchange or return the goods without giving any reason.
Erik (Banská Bystrica) 27. 2. 2019 19:23:43
Good evening I cracked at your size and I wanted to wonder whether you would advise me when choosing because I'm measuring 163cm and I have 51kg and I do not know any size with or m will be and if so should I order the biggest size because my older jacket has a circumference of waist 45 and therefore nvm these are otherwise numbered sizes thank you for understanding Erik Banská Bystrica
- Hello, thank you for your inquiry. By weight and height, it is difficult to determine size. For the product is a size chart, I recommend to measure yourself or some jacket that suits you. Depending on these dimensions and size tables, choose the correct size.
Erik (Banská Bystrica) 22. 1. 2019 19:12:48
Good I want to spank if you do not have size xs, s, or me when you close these sizes will be added thanks
- Hello, thank you for your interest in our goods. Tak far, Jane know anything about new goods for year 2019, but the supplier is riding more or less at a glance every 2-3 months. By the beginning of spring 2019 at the latest, the missing sizes should be added, but I personally think this will happen earlier. I recommend that you set up the required size watch on the product page. We will then be able to inform you immediately by email as soon as size reappears in the offer.
jelena (Düsseldorf) 27. 3. 2017 13:54:32
Hello, are these size Erwaksene or for children? I wanted to buy a jacket for a boy. is 14 years old. (His children appropriate size is Jezt 176) thank you in advance.
- Please look at the size table (measured in cm), which is located at the detailed product description. The table is to help you find the right dress size for you.
Vojta (Vary) 14. 3. 2017 21:46:09
Do you know if there's also a size XS or L
- Hello, thank you for your interest in our products. Currently demanded size are not available, but time is sure to specify. I recommend to set their watches. Below you can find under the main photo: Waiting for your size? We'll let you! '' Square '' watch sold out sizes.
Dimitrios 26. 2. 2017 12:05:29
Good. RUNNING BEAR brand has this jacket in adult sizes? Visually I liked best but the biggest size is small to me.
- Hello Dimitros, yes, they are for the adults, at present unfortunately not in stock. We expect when production resumed soon after they touched.
Zdeněk 10. 2. 2016 06:59:31
Hello. Jane look like piss ant, but in the description you have somewhat humorous, but the error: "Terrific leather jacket children size brand RUNNING BEER." I would really like to see running beer :-)
- Zdenek Hello, thank you for the warning, fixed! :-)
M 20. 11. 2014 19:10:59
What Size has XXXL? It's not listed. And is the color black? I cannot see it proberly on the photos.
- The dimensions of size XXXL were added to the table in the description.
Tomáš (Vsetín) 15. 10. 2013 16:50:30
Hello, What size do I choose the height of 165 cm and weight 55 kg?
- Hello, are listed in the legend approximate dimensions
Size chart
| | | | | |
| --- | --- | --- | --- | --- |
| | waist width (jacket bottom part) | Armpit width | length (measured under the collar) | sleeves length |
| XS | 38 | 42 | 44 | 37 |
| S | 40 | 44 | 45 | 37 |
| M | 41 | 45 | 46 | 38 |
| L | 42 | 46 | 47 | 38 |
| XL | 44 | 48 | 48 | 38 |
| XXL | 44 | 51 | 49 | 39 |
| XXXL | 44 | 52 | 52 | 40 |