shoes ALTERCORE - 3dírkové - Black
ALTER CORE 3x-hole boots made of genuine leather coated with black. The main difference with these boots is that the sole is not just glued to the leather with a high quality adhesive as is the case with most of today's shoes, but is also stitched .. more
shoes ALTERCORE - 3dírkové - Black
ALTER CORE 3x-hole boots made of genuine leather coated with black.
The main difference with these boots is that the sole is not just glued to the leather with a high quality adhesive as is the case with most of today's shoes, but is also stitched and thus achieves a maximum quality connection and durability of the shoe. (The stitching, of course, does not affect the aesthetics of the shoe - it is outside the shoe and cannot be seen).
The sole also has much better mechanical properties thanks to the rubber used properties - it is stronger and does not slip off so quickly, also in winter it has much better capabilities.
Composition: leather, metal, sole is made of quality rubber.
There is a metal reinforcement in the toe of the shoe (finger protection).
Black colour.
Shoe height approx.: 11cm.
The height of the sole under the heel is approx .: 3.1 cm.
Upload photo
Fill out the form below and get your bonus for pictures :)

Enter your order number, which you've received in the confirmation email
1 order = 1x discount of €2
after you verify your email and order number, choose the product, which the picture belongs to in then generated box
photo must show said product
photo must show user (aka you)
this discount could be used for orders of value over 20€
Don't miss your chance of winning €40 discount
for your next purchase. We give away one every month!
Upload photo
User photos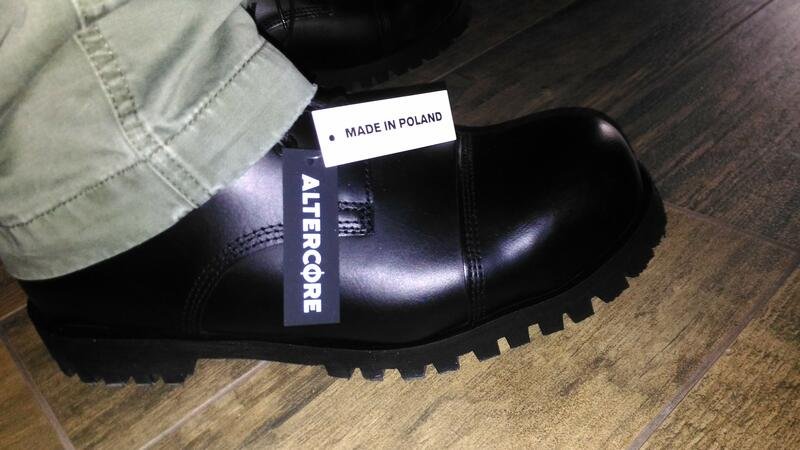 Parameters
Product reviews
Discuss
simona (pezinok) 8. 9. 2014 10:02:05
Hello, well I see that these shoes have metal Spice? The website states that size. 38 in stock? and one more question. where they made the shoes? Thanks simona
- Size 38 in stock. The shoes have a metal tip. They are Polish and shoes should there also be produced, because the box is Made in Poland. :-)